Come along and pick-your-own flowers in the old cutting garden at Knighton. We grow sweet peas, cosmos, dahlia, garden roses, zinnias, lavender, scabious, marigold, peony and plenty more. The gardens welcome pickers from late May to October.
These beds are quite narrow and tend to dry out easily so watering and a leakey hose system helps – the main feature is the different climbing roses with viticella climbing up them from late May onwards.
This gives colour most of the summer months – alliums, wallflowers and foxgloves start the colour season off, followed by the roses and then a few dahlias and bedding plants,
Vegetable / Flower Garden
We have been working on this for a long time to get it to this standard. The walled vegetable garden was set up in the Edwardian times when there was a household to feed as well as a large resident house staff. To make it easier we took out all the irises which edged the whole area as they were too labour intensive to keep weeded. We replaced them with gravel and a liner. We also took out the arches with climbing roses.
We have not put in any raised beds as we wanted to keep this vegetable garden as it always was but this year we have put some bark paths in to divide up the huge beds – this will make them more manageable. I love to have flowers amongst the vegetables and to brighten up the appearance. As our adult children have now left home I have changed the layout so that two thirds of the garden is now growing flowers which would be good for weddings.
Half Hardy plants
cosmos, antirrihnums, zinnias, ammi majus and visaga, sweet peas, nigella, larkspur, nicotania
Shrubs
Hydrangea, myrtle, pittisporum, gelda rose
Roses
Planting some 12 new ones this year. There are around 20 different roses around the garden many have been there for 50+ years
Biennials
Wallflowers, Sweet Williams, foxgloves
Dahlias
As many as we can fit in as I love them !!! We cover in the winter and inevitably lose some to the frost
Bulbs
Narcissi, alliums, daffodils etc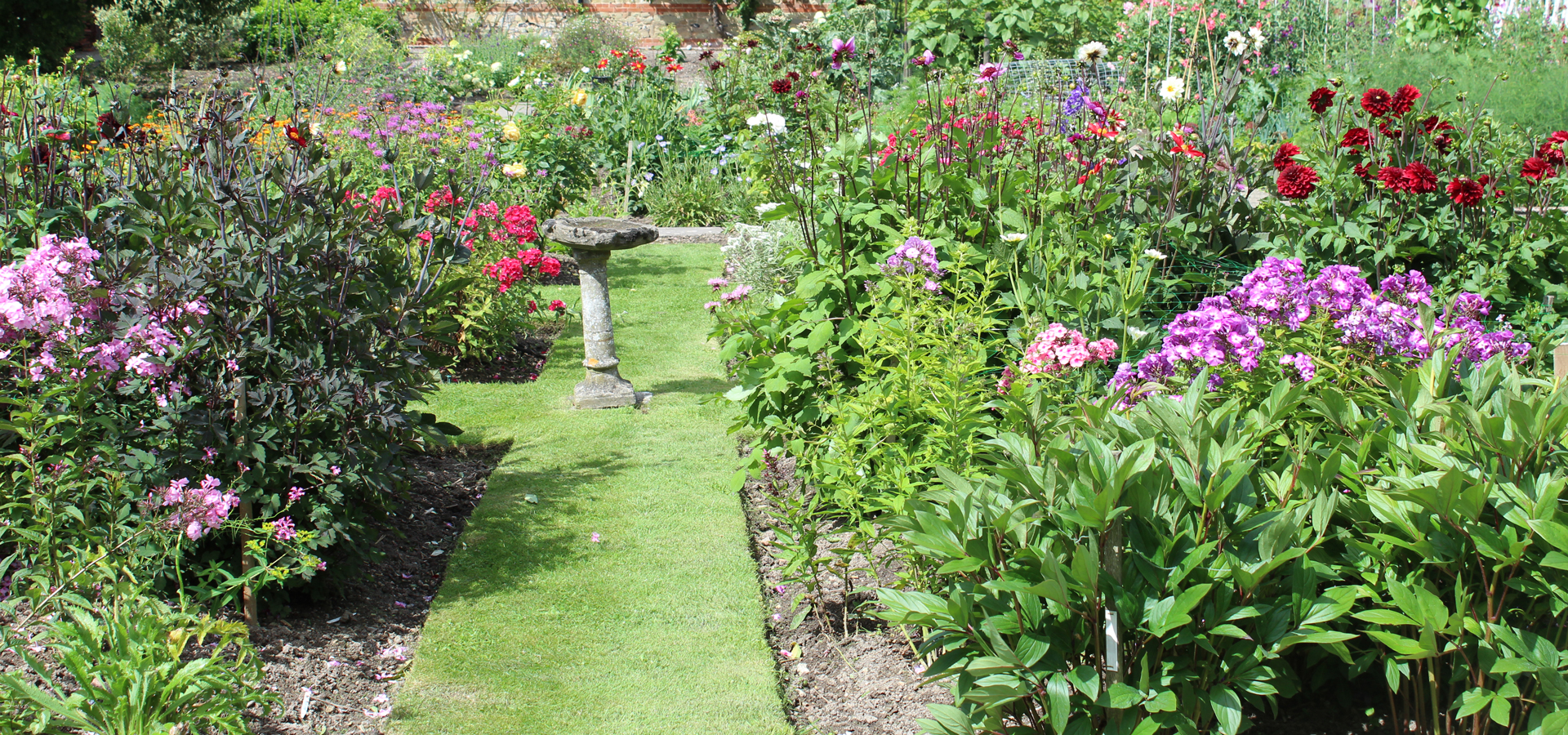 Workshop: Learn to grow flowers to pick and arrange
The morning will cover the basics of ground preparation, seed sowing, potting on, planting out and maintaining.
A delicious lunch at the Grade 2 Knighton Manor is included.
Florist Gill Muldoon will then teach you how to condition flowers and arrange a table decoration which you will take home.
Max 12 per group.
Upcoming 2019 dates:
Tuesday 9th April
Tuesday 16th April
10:30am – 3pm
Cost £90
Booking: 01722 780789 or 07807 780707
Contact
Caroline Lamb
Knighton Manor
Broad Chalke
Wiltshire SP5 5EB
Tel: 01722 780789
Mobile: 07807 780707
Email: caroline@knightonmanor.com